Ladies & gentlemen introducing the star of the show "Alina", our 2015 wish recipient. We want to thank the people who generously donated money and volunteered their time. It's because of you we were able to send Alina's family to Walt Disney World granting her wish to meet Elsa from Frozen.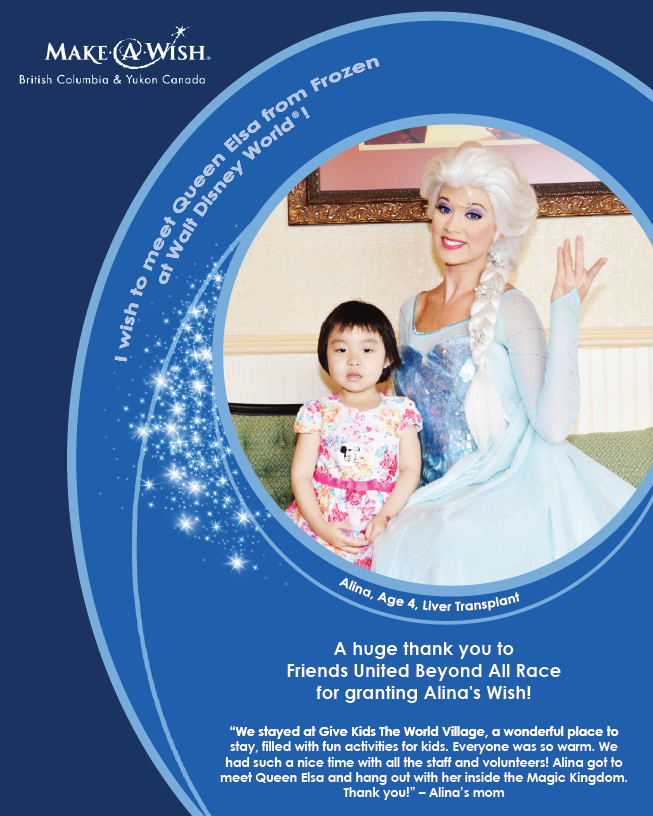 "We stayed at Give Kids The World Village, a wonderful place to stay, filled with fun activities for kids. Everyone was so warm. We had such a nice time with all the staff and volunteers! Alina got to meet Queen Elsa and hang out with her inside the Magic Kingdom… Thank you" ~ Alina's mom
We sincerely thank you for your genorosity and look forward to your continued support at our next Friends United Beyond All Race (F.U.B.A.R.) "Summer Splash" event Sunday August 14th, 2016 and our annual"Golf Classic" event on Sunday August 28th, 2016.

Please help spread the word about these two events as we move toward our ultimate goal of granting three wishes a year. Once again, thank you so much for your contributions.
Sincerely,
The Friends United Beyond All Race Family